India's Best & Advanced Digital Marketing Certification Program
Become a Certified YouTube Marketing Specialist
  Flexible Classes
Certified Faculty
100% Job Placement
A video is an amazing way to leave long-lasting impact on people's minds. As a YouTube Marketing Specialist, you'll be a Pro at running YouTube ads and using video keyword research & analytics to your advantage!
CIIM Benefits:
✓
Trainers with 12+ years of experience.
✓
More than 45+ Modules.
✓
100% Job placement Record.
✓
Internship Program.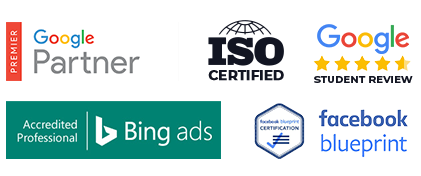 [contact-form-7 404 "Not Found"]
Program learning outcomes and content
With CIIM's YouTube Marketing specialization course, you will come across ways to write a great video title and description, using the most-searched keywords. We'll also show you how you can rank your videos better and gain more subscribers.
What you will Get in CIIM?
Chandigarh Institute of Internet Marketing (CIIM) is a pioneer in the field of digital marketing since 2010. We are a Google Premier Partner with an expert team of trainers that has coached over 12,000 individuals. Our course curriculum comes loaded with many benefits and features that are hard to find these days. Here are a few key features of our courses:
45+ course modules

5+ certifications (Google Ads, Bing Ads, Facebook Ads, etc.)

Trainers with 12+ years of experience

A complete hands-on, practical approach

Work on live-projects

Internship opportunities

100% job placement with our partner companies
Meet our panel of expert trainers, who will be your support pillars during the training. All of them have over 10
years of professional experience in the field of digital marketing.

Surjeet Singh
Digital Marketing Trainer
The founder of CIIM, Surjeet Thakur has professional experience of over 15 years in digital marketing.
Mukesh Kumar
Digital Marketing Trainer
Mukesh has a penchant for Pay-Per-Click (PPC) ad campaigns and Affiliate Marketing.

Ravinder Singh
Digital Marketing Trainer
When it comes to best white hat SEO techniques, no one can match the expertise of Ravinder Singh

Preety
Digital Marketing Trainer
Preety has been training digital marketing aspirants for the last 10 years & have vast knowledge.

Bobby Singh
Digital Marketing Trainer
Social Media Marketing (SMM) is Bobby's,
first love. His spouse comes second!

Raghav Nehra
Content Writing Trainer
Raghav is a gifted writer! Ask him to write on literally any topic and you won't be disappointed.

Gagan Kumar
Website Designing Trainer
If web designing is an art, then Gagan is no less than Picasso. He designs masterpieces!
Prateek Bandhu
UI/ UX Trainer
When it comes to designing a great UI and  UX, we look no further than Prateek.
Gurpreet Singh
Video Editing Trainer
For Gurpreet, work is simply a hobby. He's an expert at imparting video marketing and editing skills.
Poonam Sharma
Career Consultant
She is an expert at reading an aspirant's passions and skill set. She guides you with the right career path.
CIIM Trainees are working at
We have a track record of maintaining 100% job placement with every batch. CIIMians have worked
hard day in and day out to reach these notable organizations, most of which are our partner companies.
Globally Recognized Certification
Over 12,000 Aspirants have Trusted CIIM to Achieve Progress in their Careers.
98%
Of our diploma program, students have found our course immensely useful.
94%
Of our diploma holders have found their dream digital marketing job without any hassle.
97%
Of our diploma holders found our trainers to be 'extremely' helpful.
Over 12,000+ Trainees trust CIIM to power up their careers.
CIIM has 12,000+ members and alumni across the globe. Besides, learning the latest in digital marketing, you'll be joining a network of thousands of members and graduates with the same passion for this fascinating, modern-day discipline.
500+ 5 Star Student
Reviews
100+ 5 Star Student
Reviews
300+ 5 Star Video
Reviews
FREQUENTLY ASKED QUESTIONS
How long is CIIM's YouTube Marketing Specialist program?
Our course will last for 45 days. During this program, you will also get to work on live projects.
Can I take a demo class before enrolling?
Yes, feel free to schedule a demo class with us at any preferred time.
Is CIIM an ISO certified centre?
Yes, we are an ISO: 9001 certified training centre, which stands testimony to the authenticity and safety of our establishment. Furthermore, we take immense pride in referring to ourselves as a Google Premier Partner and a Bing Certified Institute.
Can I pursue the CIIM YouTube Marketing Specialist course online?
Yes, our trainers deliver quality lectures via live Zoom or Google meet. This helped us particularly during the COVID 19 pandemic when there were many physical restrictions in place to prevent the spread of the virus.
Can I pay the course fee in installments?
Yes, we understand that not everybody is financially well-off to pay the entire course fee in one go. Hence, we have many easy EMI options available, with which you can pay the fee via pocket-friendly installments.
Are there any prerequisites to join this course?
No, you do not require any advanced technical skills to pursue our program. Basic knowledge of how to use a computer and Google search is enough to perform well in this course.
Am I supposed to carry my own laptop for this course?
) For the purpose of maintaining good hygiene, we recommend bringing your own laptops. However, if you don't have one there's no need to worry. We'll allocate a system to you during your first session.